Cozy and compact, this charming kominka offers a wonderful view over a local harbor.

Feel the excitement rising as you walk up the volcanic rock steps going up to Nichigetsuan. Once inside, you will be awestruck by the unique beauty of this hidden gem. The name Nichigetsu 日月 is made up of Nichi 日 character meaning "Sun", and Getsu 月, meaning "Moon". The house has earned its name thanks to the breathtaking view that it offers of the sun and the moon rising in the eastern sky. Needless to say, Nichigetsu is very romantic with its cozy atmosphere being perfect for couples or close friends. Bask in the gentle sunlight flowing into the living room from the inner garden. Wake up to a panoramic view of the tranquil harbor below your bedroom windows. Breath in the soothing aroma of the cypress wood bathtub that will warm your body and soul. Nichigetsu is designed to make you feel both at home yet completely transported.
View From the Kitchen
Living Room
Bedroom
Nichigetsu sits atop a hill overlooking a local harbor. This compact kominka is designed to be both homely but spacious with a modern twist. It is the kind of magical place you want to share with your closest person. Hoshu, another beautifully restored kominka, is just a garden away: excellent for families or groups that require a larger home.
Location
Nichigetsuan is located in Fuefuki: the liveliest area of Ojika Island, where you can find all the shops and restaurants, as well as many historical sights, such as the former residence of Oda family (now Museum of History and Folklore): historically one of the wealthiest families on the island that rose to prominence through whaling. Explore the charming streets of the fishing town, where locals will greet you with a warm smile and a friendly chat.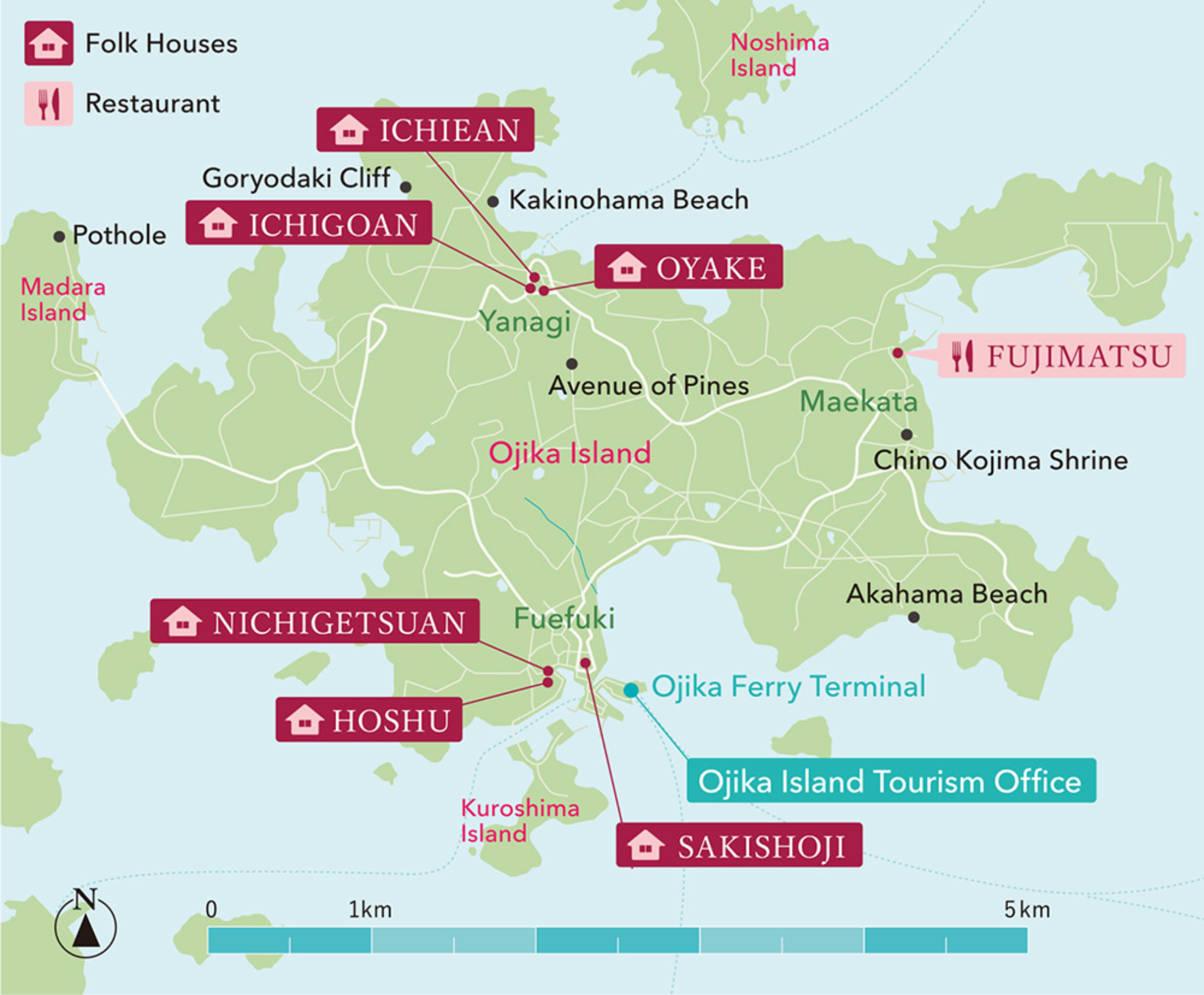 Information
・Our staff will escort you to Hoshu from Ojika Island Ferry Terminal.

・Once at Hoshu you will receive the key as well as a brief tour around the house.

・Hoshu is an important cultural asset of Ojika Island. Please be careful not to cause any damage around the premises of kominka.
Amenities
Shampoo, Conditioner, Body Soap, Hand Soap, Face Towel, Bath Towel, Hair Dryer, Roasted Green Tea, Mineral Water, Coffee, Coffee Milk, Sugar, Slippers, Insect Repellent (summer season only)

Please bring the following items:
Pajamas, Toothbrush, Shaver, Face Wash, Bath Sponge, etc.
※Laundry and cleaning services are not provided. ※Yukata rental available.
Electric Appliance
Kitchen - Induction cooktop, Refrigerator, Toaster, Microwave, Rice Cooker

Other - Air-conditioner/Heater, TV, Blu-ray Player, Shower Room, Toilet, Washing Machine, Washing Detergent, Vacuum Cleaner
※DVDs are not provided.
Kitchen Utensils
Plates, Cups, Glasses, Tea Pot, Chopsticks, Spoons, Forks, Knife, Cutting Board, Sieve, Mixing Bowl, Pot, Frying Pan, Tea Towel, Kitchen Cloth, Dishwashing liquid, Kitchen Sponge, Aluminum Foil, Food Wrap and more.
※Basic seasoning: soy sauce, cooking oil and vinegar, salt, sugar and black pepper.