This gorgeous mansion with a private Japanese garden is one step away from a local harbor.
The name Hoshu 鮑集 is made up of Hō 鮑 character meaning "Abalone", and Shuu 集, meaning "Collection". Ojika Island once thrived on abalone fishing which was hosted at the port next door to Hoshu. As abalone numbers kept declining in the neighboring seas the port went from bustling to tranquil. The dining area windows of Hoshu, overlooking the port, provide a glimpse into the daily life of islanders going about their business around the port: perfect to get a feel for the beauty and rhythm of the community. Those who wish to regain their inner peace can retreat into the traditional tatami room with a stunning Japanese garden view. After an exciting day of island adventures the cozy living room with a large sofa is perfect to recover from the business of everyday life.
Tatami Room
Living Room
View From the Dining Room
Surrounded by a beautiful ishigaki stone wall, with a glittering sea of a harbor on one side and atmospheric Japanese garden on another, Hoshu is a traveler's dream come true. Each room has its own unique charm, so much so that you will have a hard time choosing one. Nichigetsuan: another beautifully restored kominka, is just a garden away: excellent for families or groups that require a larger home.
Location
Hoshu sits atop a hill overlooking a local harbour of Fuefuki: the liveliest area of Ojika Island, where you can find all the shops and restaurants, as well as many historical sights, such as the former residence of Oda family (now Museum of History and Folklore): historically one of the wealthiest families on the island that rose to prominence through whailing. Explore the charming streets of the neighbouring fishing town, where locals will greet you with a warm smile and a friendly chat.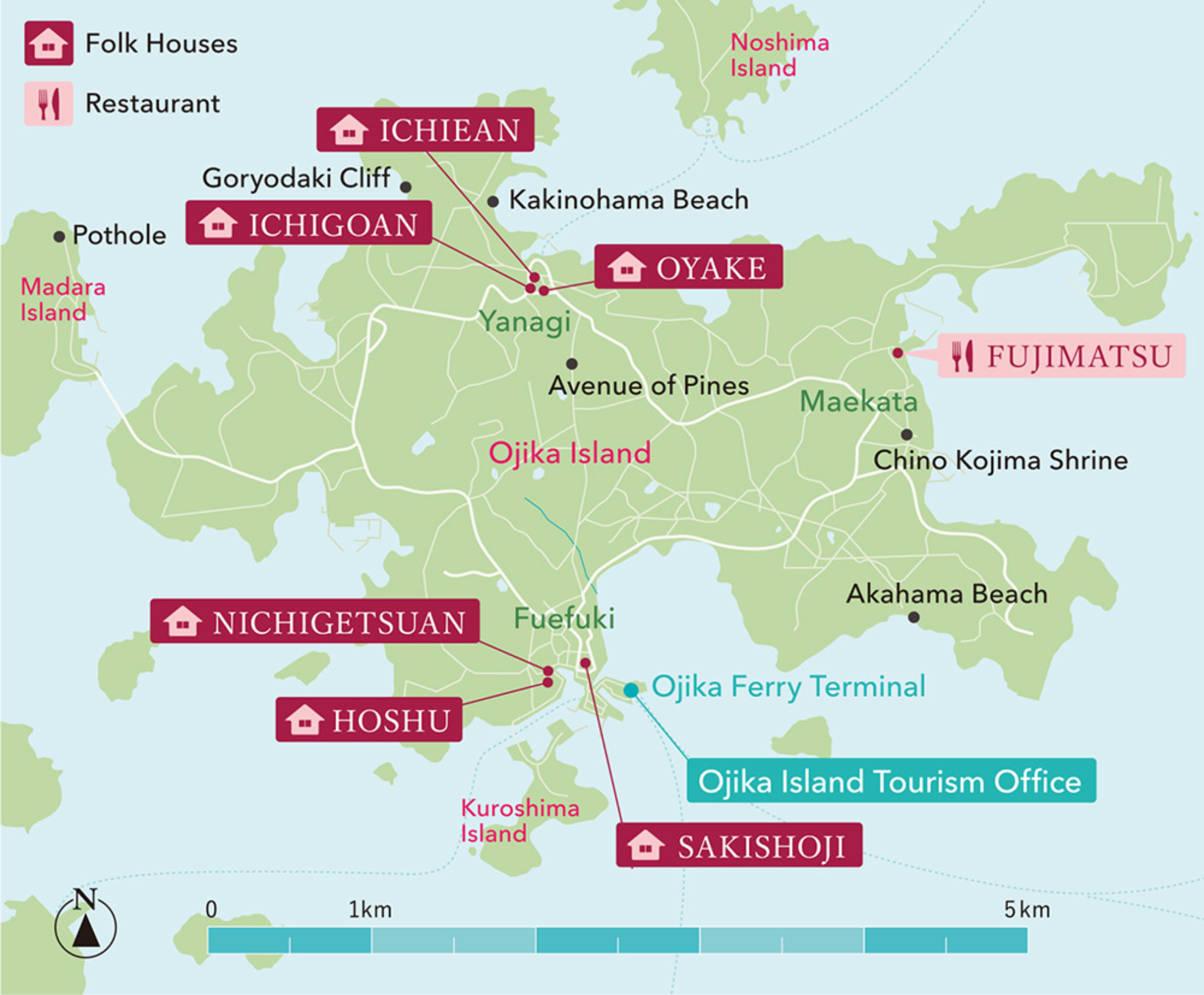 Information
・Our staff will escort you to Hoshu from Ojika Island Ferry Terminal.

・Once at Hoshu you will receive the key as well as a brief tour around the house.

・Hoshu is an important cultural asset of Ojika Island. Please be careful not to cause any damage around the premises of kominka.
Amenities
Shampoo, Conditioner, Body Soap, Hand Soap, Face Towel, Bath Towel, Hair Dryer, Roasted Green Tea, Mineral Water, Coffee, Coffee Milk, Sugar, Slippers, Insect Repellent (summer season only)

Please bring the following items:
Pajamas, Toothbrush, Shaver, Face Wash, Bath Sponge, etc.
※Laundry and cleaning services are not provided. ※Yukata rental available.
Electric Appliance
Kitchen - Induction cooktop, Refrigerator, Toaster, Microwave, Rice Cooker

Other - Air-conditioner/Heater, TV, Blu-ray Player, Shower Room, Toilet, Washing Machine, Washing Detergent, Vacuum Cleaner
※DVDs are not provided.
Kitchen Utensils
Plates, Cups, Glasses, Tea Pot, Chopsticks, Spoons, Forks, Knife, Cutting Board, Sieve, Mixing Bowl, Pot, Frying Pan, Tea Towel, Kitchen Cloth, Dishwashing liquid, Kitchen Sponge, Aluminum Foil, Food Wrap and more.
※Basic seasoning: soy sauce, cooking oil and vinegar, salt, sugar and black pepper.