A hidden gem of an old fishing village.
Experience the timeless charm of Sakishoji.

Sakishoji is hidden away in a narrow alley of an old fishing town. Dim light, seeping through the lattice windows on the first floor, creates an other-worldly atmosphere. This lighting goes hand in hand with the old, natural materials the house is made of, such as the handsome wooden pillars that support the high open-beam ceiling on the second floor. Listen to the sound of children playing in the distance, greet your neighbor with a warm smile, buy fresh fish and vegetables at a family-run shop just around the corner, immerse yourself in the island life.
Tatami Bedroom
Living Room
Kitchen and Dining Area
This cozy kominka, located in the heart of an old fishing town, allows its guests to immerse themselves in local life. The second floor of Sakishoji features a modern living room and kitchen space with the original wooden pillar and beam structure having been preserved and incorporated beautifully into the modern interior. The bedroom on the first floor is a traditional Japanese-style tatami room that creates a delightful contrast between two floors. The decorative details featuring the original antiques from the house complete the exquisite atmosphere of Sakishoji.
Location
Sakishoji is nested in a narrow alley, right in the center of an old fishing village. Experience the great pleasure of getting lost in the winding streets lined up with old wooden houses. Step outside the Sakishoji, turn a random corner and see what you find: an old sushi shop, a curious Jizo statue, an ancient letterpress studio, the streets are dotted with hidden treasures waiting to be discovered. Conveniently, Sakishoji is also just 1-minute walk away from the main shopping street.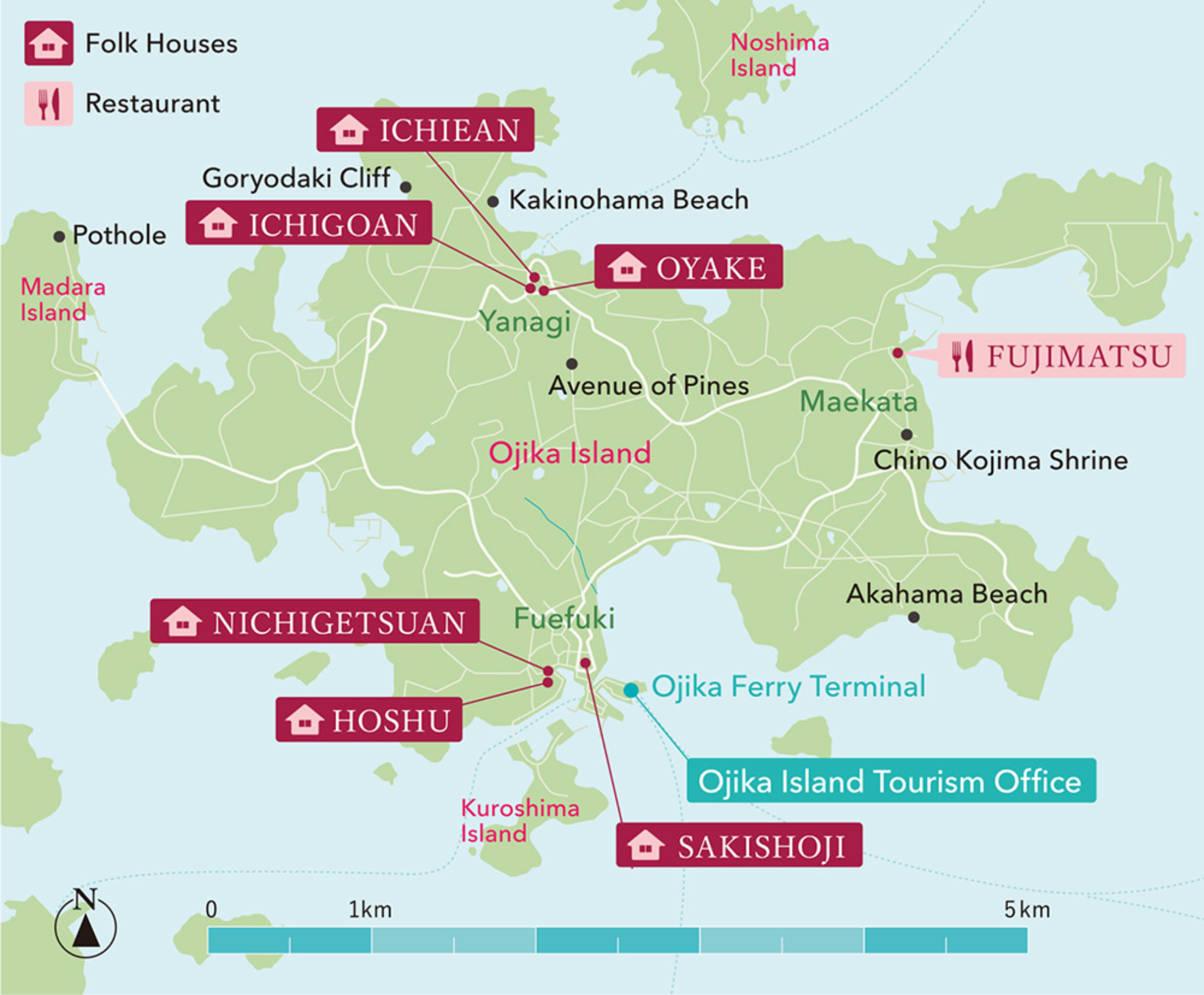 Information
・Our staff will escort you to Sakishoji from Ojika Island Ferry Terminal.

・Once at Sakishoji you will receive the key as well as a brief tour around the house.

・Sakishoji is an important cultural asset of Ojika Island. Please be careful not to cause any damage around the premises of kominka.
Amenities
Shampoo, Conditioner, Body Soap, Hand Soap, Face Towel, Bath Towel, Hair Dryer, Roasted Green Tea, Mineral Water, Coffee, Coffee Milk, Sugar, Slippers, Insect Repellent (summer season only)

Please bring the following items:
Pajamas, Toothbrush, Shaver, Face Wash, Bath Sponge, etc.
※Laundry and cleaning services are not provided. ※Yukata rental available.
Electric Appliance
Kitchen - Induction cooktop, Refrigerator, Toaster, Microwave, Rice Cooker

Other - Air-conditioner/Heater, TV, Blu-ray Player, Shower Room, Toilet, Washing Machine, Washing Detergent, Vacuum Cleaner
※DVDs are not provided.
Kitchen Utensils
Plates, Cups, Glasses, Tea Pot, Chopsticks, Spoons, Forks, Knife, Cutting Board, Sieve, Mixing Bowl, Pot, Frying Pan, Tea Towel, Kitchen Cloth, Dishwashing liquid, Kitchen Sponge, Aluminum Foil, Food Wrap and more.
※Basic seasoning: soy sauce, cooking oil and vinegar, salt, sugar and black pepper.