Walking up to Oyake feels like stepping into a Japanese fairytale.
Located in the peaceful Yanagi village, far away from hustle and bustle of the Fuefuki town, Oyake might be the most atmospheric kominka of all. The name Oyake 親家 is made up of Oya 親 character meaning "Parent", and Ke 家, meaning "House". A former samurai residence, one of the most prominent households in the area used to call Oyake their home. This beautiful kominka boasts large open spaces, separated by elegant sliding doors and a breathtaking garden, where Camellia and Hydrangea trees bloom in November and June, respectively. But the most fascinating part of the house is the attic that seems to be hiding some unspoken secrets.
Tatami Room
Living Room
Tokonoma alcove
Oyake is a large kominka that is perfect for friends and families traveling together. The spacious living and dining area has been refurbished with a modern twist, but once you step beyond the sliding doors, you will be met with an array of rooms where traditional Japanese design has been preserved in its authenticity. After you are finished exploring the first floor take the old staircase up to the attic. Conveniently, Oyake has two state-of-the-art bathroom fixtures, one of which has a cypress bathtub.
Location
Oyake is located in the northern part of Ojika Island, in a peaceful Yanagi village, surrounded by vast rice fields and cow pastures. It is also a 20-minute walk away from a breathtaking Kakinohama beach and majestic Goryo cliffs. An oasis built inside lush greenery, away from the hustle and bustle, Oyake might be just the kind of escape you need in your life!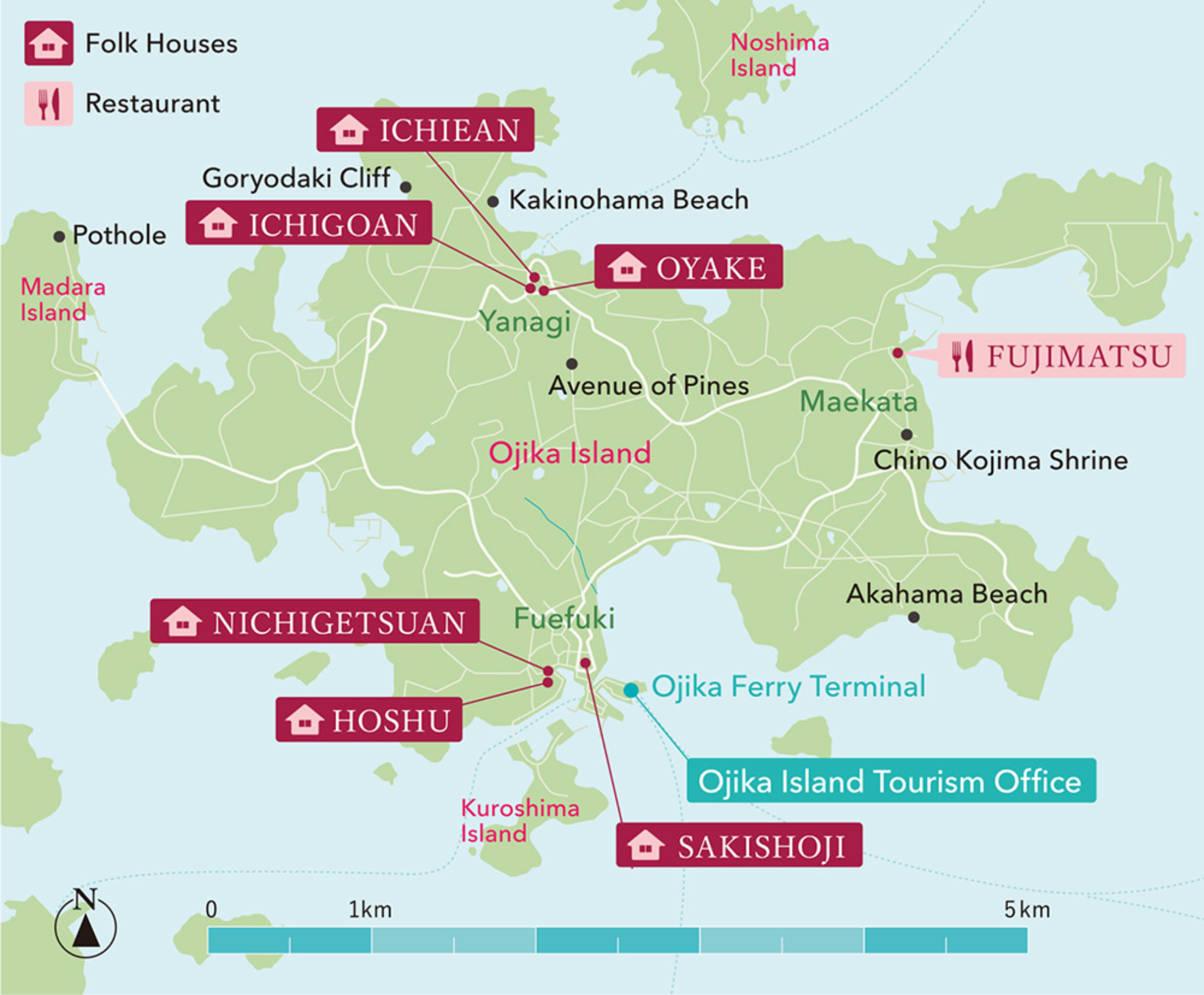 Information
・Our staff will escort you to Oyake from Ojika Island Ferry Terminal.

・Once at Oyake you will receive the key as well as a brief tour around the house.

・Oyake is an important cultural asset of Ojika Island. Please be careful not to cause any damage around the premises of kominka.
Amenities
Shampoo, Conditioner, Body Soap, Hand Soap, Face Towel, Bath Towel, Hair Dryer, Roasted Green Tea, Mineral Water, Coffee, Coffee Milk, Sugar, Slippers, Insect Repellent (summer season only)

Please bring the following items:
Pajamas, Toothbrush, Shaver, Face Wash, Bath Sponge, etc.
※Laundry and cleaning services are not provided. ※Yukata rental available.
Electric Appliance
Kitchen - Induction cooktop, Refrigerator, Toaster, Microwave, Rice Cooker

Other - Air-conditioner/Heater, TV, Blu-ray Player, Shower Room, Toilet, Washing Machine, Washing Detergent, Vacuum Cleaner
※DVDs are not provided.
Kitchen Utensils
Plates, Cups, Glasses, Tea Pot, Chopsticks, Spoons, Forks, Knife, Cutting Board, Sieve, Mixing Bowl, Pot, Frying Pan, Tea Towel, Kitchen Cloth, Dishwashing liquid, Kitchen Sponge, Aluminum Foil, Food Wrap and more.
※Basic seasoning: soy sauce, cooking oil and vinegar, salt, sugar and black pepper.